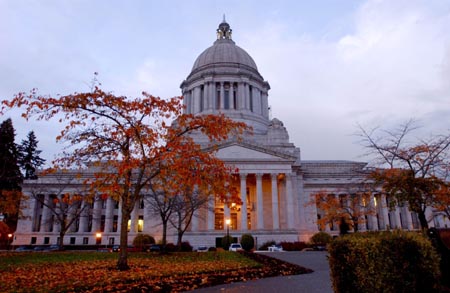 2014 Washington State Legislature
60-Day Session Begins on January 13, 2014
Click here for WABO 2014 Legislative Priorities
Week Seven, March 3 2014
by Amy Brackenbury, WABO Lobbyist
Less than two weeks remain in the 2014 Legislative Session. The Senate has passed its supplemental budget proposal with strong bipartisan support, and the House passed its version of the bill out of the Appropriations Committee last Friday. Bills that didn't make it out of the opposite chamber's policy committee by Friday at 5:00 are technically "dead, including WABO priority bills.
HB 2214 and SB 6018, the Code Official Apprenticeship Funding bills, both died in fiscal committees this year. Although bills with ties to the budget are typically not considered dead until the session ends, funding for the program was not included in either budget proposal. Rep. Dean Takko, sponsor of the House Bill, drafted an amendment to another bill to include funding for the program, but the funding amount was indeterminate. Ultimately, WABO decided partial funding for the program was not a good alternative, and the bill in question died in the Rules committee.
HB 2213 and SB 6019, the Electrical Code Task Force bills, also died this year. However, the Chairs of the House Local Government Committee and the Senate Commerce & Labor Committee have committed to bringing stakeholders together during the interim to see if an agreement about how best to move forward can be forged.
Other "dead" bills of interest include:
HB 2168, the "tiny house" bill, which never made it out of the House Rules Committee.
HB 2414, the "toilet bill." It passed out of the Senate but died in the Senate Energy & Environment Committee.
Rep. Vincent Buys' fire sprinkler bill, HB 2260, which didn't pass out of the House this year.
HB 2677, HB 2498, and SB 6461, bills related to collection of impact fees. HB 2677 made it out of House Local Government but died in House Rules. The other bills died in their respective policy committees.
The final days of this session will be primarily spent on reconciling the House and Senate budget proposals. The Senate proposes to raise overall spending by $96 million and the House proposal would increase spending by $240 million. And Friday the Senate introduced several Transportation reform and funding bills that include a proposal for a gas tax increase without a referendum clause, and the Senate may try to pass these bills this week.