WABO 2017 Spring Quarterly Meeting - Leavenworth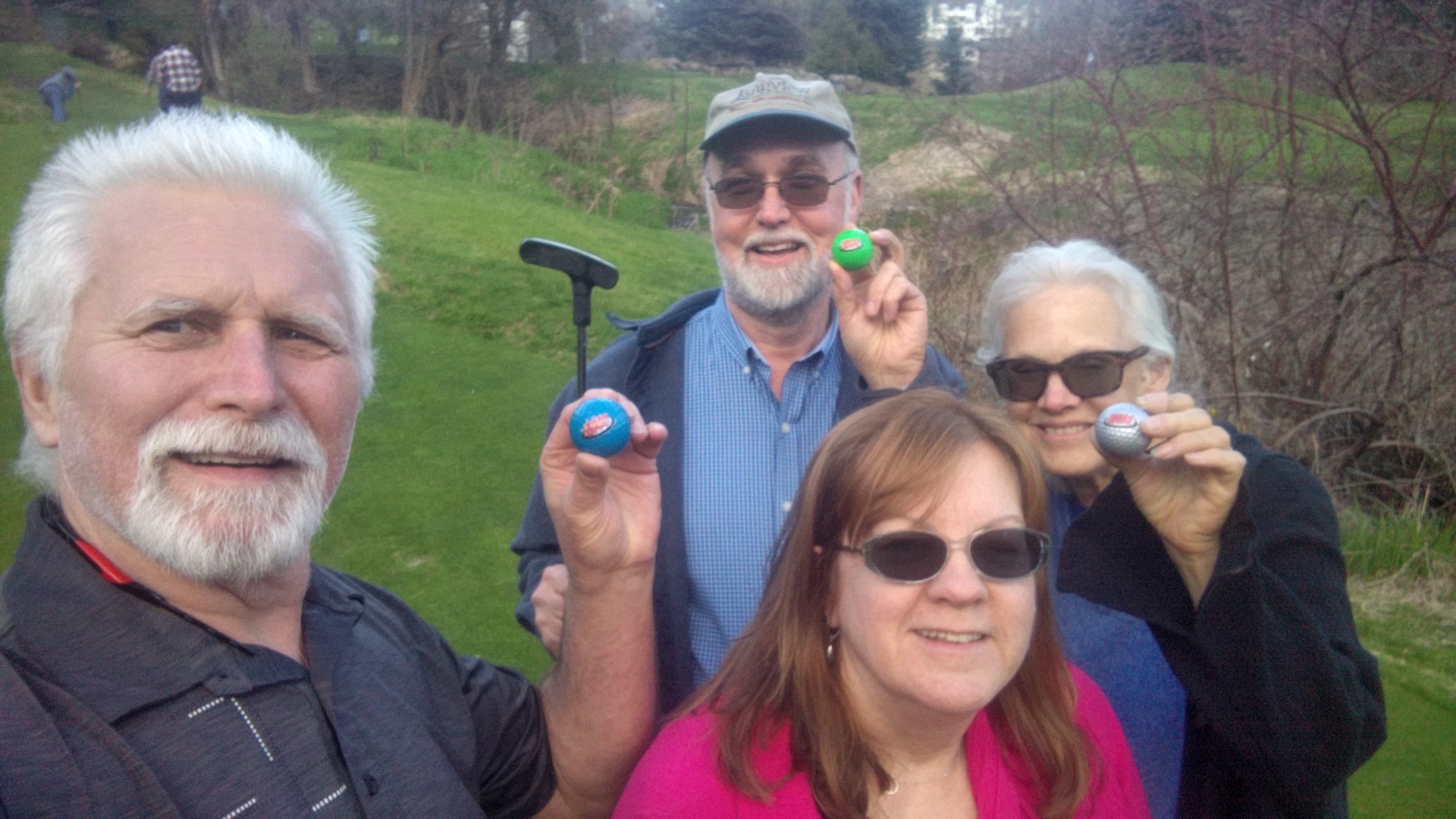 Enzian Inn Putting Course (photo by Mike Noot)

WABO PRESIDENT'S REPORT

-
by Tom Phillips, CBO, ACO

Greetings! As you will see from this newsletter, we have a lot of positive things happening that impact WABO as well as the customers we serve. I'm especially proud of the work our legislative committee, led by David Spencer, has done in this year's legislative session. I'm also very happy to report that our membership turnout at the April meeting in Leavenworth was the largest in recent memory. It's exciting to see so many people involved in all of the important issues WABO is working on. I was especially honored to present Joanne McCaughan, code specialist with the State Building Code Council, an honorary membership award for her many years of service to the State as she is retiring this year. I must also give a "shout out" to our new Executive Director, Tara Jenkins, who has far surpassed my expectations in her organizational skills and is responsible for the day to day operations of WABO.
Our Education Institute turned out to be larger than expected and provided first class training at an affordable cost. It also provided a chance to catch up with old friends! Our next Education institute will be at the Marriott again but moving forward our Educational Committee is looking at different venues that provide free Wi-Fi and parking.
The construction boom does not show any signs of letting up and could end up being one of the largest periods of construction and economic expansion for Washington. This puts a lot of pressure on our building departments as they try to provide adequate staffing, especially as many people are starting to retire. WABO is trying to assist with this problem with our WABO Code Official Accreditation Program which provides online college-level courses on permit processing, building inspection and plan review. Please check out all of the details at WABO.org. Also, if you would like input from your peers on how to resolve specific issues check out our WABO chatline. If you are not currently a chatline member, please contact the WABO office to find out how to register.
Finally, it is imperative that WABO continues to be a member driven organization, providing value to our members and our customers. If you have any suggestion on how we can further our mission, please email me at [email protected]. I look forward to seeing as many of you as possible at our annual meeting in June. This would also be a great opportunity to bring a co-worker with you to show them what WABO is all about and how they can get involved in our dynamic organization.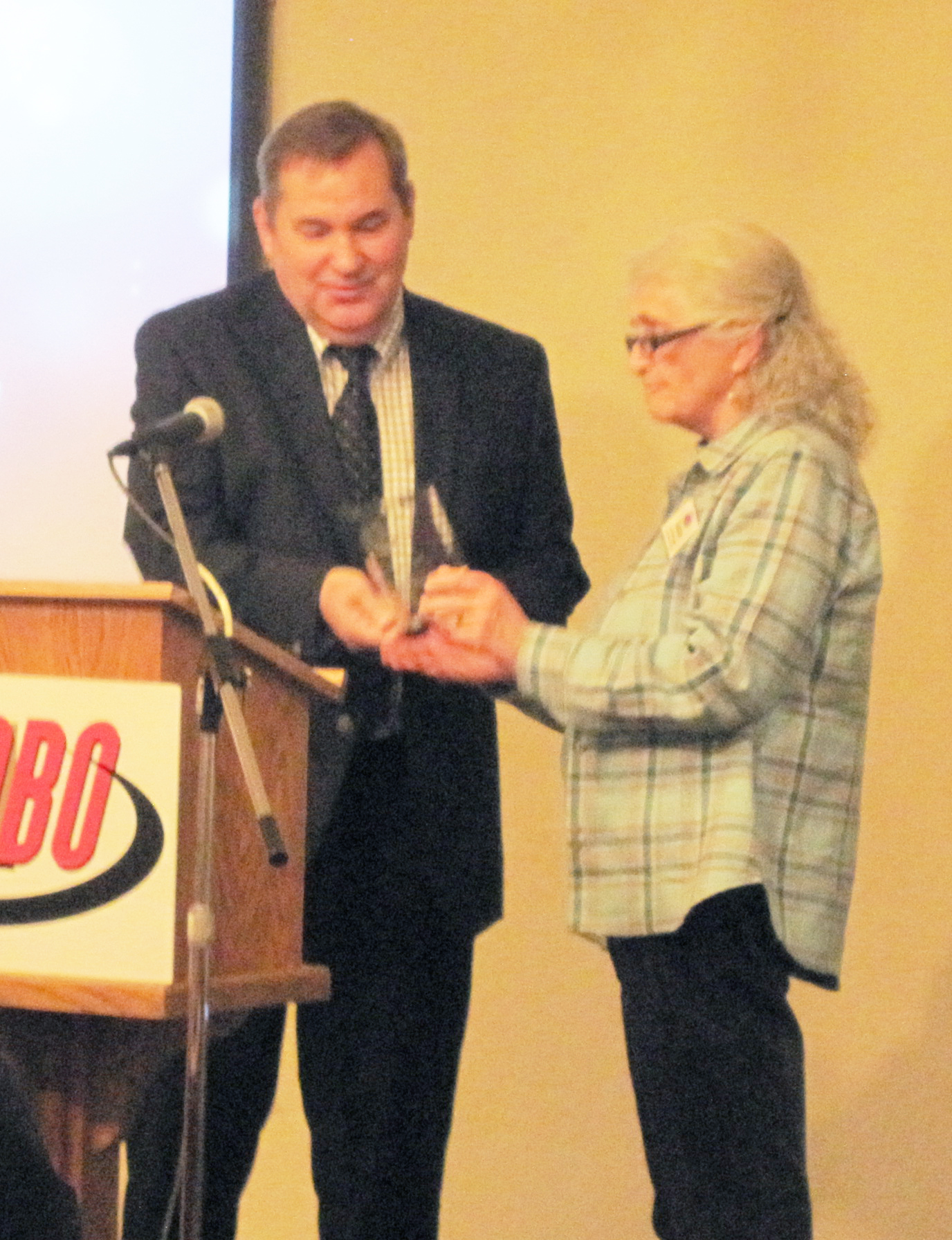 President Phillips presents award to Joanne McCaughan
Committee Reports
Technical Code Development Committee - Chair Lee Kranz, CBO, ACO

1. WABO TCD meeting in Leavenworth:
Micah Chappell, from SDCI, was introduced. Micah was hired to work on code development for the City of Seattle after Maureen Traxler retired.
The ICC Board of Directors will be reviewing a summary of suggestions to improve their code development processes in May. TCD submitted 10 separate suggestions all of which were included in the summary to the Board. Hopefully some improvements will be made to allow more participation for Building Officials.
The deadline to submit Group A code changes is January 8, 2018. Chairman Kranz reminded attendees to think about and document code change ideas to discuss at future meetings. Group A includes IBC- (Egress, Fire Safety, and General), IFC, IFGC, IMC, IPC, IPMC, IPSDC, IRC- Mechanical and Plumbing, ISPSC, IWUIC and IZC. The ICC Committee Action Hearings will be held in Columbus, OH on April 15–25, 2018.
The Committee discussed several Group A code change concepts and started a list of them to be discussed at future TCD meetings later this summer and fall. The proposals are located on a Google doc application for ease of access by key TCD participants.
The status of the 60 PSF deck live load was discussed. The SBCC decided to maintain the current amendment for deck live loads at 60 PSF to be consistent with the IBC and ASCE 7-16. They also issued an interpretation which includes span tables and ledger connections for the higher loading.
Tim Nogler will be retiring from his position as the Director of the SBCC Staff. Tim did a great job in his role as a facilitator and professional manager. His level-headed approach to code development will be missed. His replacement is of great importance to WABO and our efforts to maintain and improve the State Building Code and related codes. Jim Tinner who represents WABO on the SBCC mentioned that he is participating in the recruitment process and has concerns about the minimum qualifications for the position. He will be working with a subcommittee to refine the job qualifications to widen the pool of possible candidates.
2. Remaining TCD meetings for 2017:
There are 6 TCD meetings currently scheduled for this fall prior to the January 8, 2018 deadline for 2021 I-code changes.
A. June 22 at the WABO Annual Business Meeting in Tulalip.
B. October 19 at the WABO Fall meeting in Chelan.
C. November 6 and 20 at Bellevue City Hall and online, and
D. December 4 and 16 in Bellevue City Hall and online.
Education Committee -Chair Steven Hart, CBO
We had a successful education meeting at the 2017 Spring Business Meeting. Here are the highlights:
Tara Jenkins reported that for a non-code cycle year, we had 150 more attendees at this year's Annual Educational Institute (AEI) than previous non-code cycle years. Informative presentation topics, outreach and advertising, and a stronger economy, has contributed to higher attendance.
The economy continues to pick up in the Northwest, and so does the cost of doing business. Organizations are in need of venues to host educational gatherings, and this demand has created a cost increase to hold our annual March AEI meeting at the Marriott in SeaTac.
Troy Jenkins provided options to help WABO choose a new venue location. An Excel spreadsheet was created for the Education Committee that will assist members for a potential venue change based on cost and more service options (AEI Venue Options). Spending money wisely, keeping our members satisfied, and providing the best service possible are priorities at our annual educational venues. Through member feedback, several issues were identified at this past year's AEI. We believe we can improve by switching venues and negotiating for better service. Negotiating terms could include a van shuttle for dinner, Wi-Fi, parking fees, and more. PLEASE open the Excel spreadsheet and pick three venue options that you believe WABO should consider for next year's AEI, and send Tara your Top Three picks.
Tom Philips has agreed, (and tabled for the next business meeting), to explore potentially having two AEI venues (Westside/Eastside), provided there are no conflicts with local ICC Chapters. Todd Blevins indicated there are approximately twenty jurisdictions interested in joining that can provide input.
WABO and Dave Cantrell are still pressing forward with the Education & Outreach trailer, but we are having an issue with insuring the trailer, so the trailer purchase is on hold. Jim Muir of Clark County has offered to collaborate with WABO during the interim, and offered the use of Clark County's trailer to hold educational presentations and discussions. Other forms of Education & Outreach delivery under consideration include live streaming, webinars, and PowerPoint presentations.
Chris Seaman of City of Tacoma received positive feedback as a first-time presenter at the AEI. Great job Chris, and thank you for volunteering (forced into this scary situation by Pete Rambow). If you have a member in your department that has knowledge in a subject topic and would like to present at the upcoming AEI, let us know - we would like to hear from them!

Outreach Committee - Chair Todd Blevins, CBO
The WABO Spring meeting in Leavenworth on April 20th and 21st was fantastic, at least for the Outreach Chair. We had thirteen first-timers and enthusiastic mentors to pair them with, a huge thank you goes out to them. Most all of they expressed their appreciation for the opportunity to attend with the scholarship and enjoyed their time with the mentors.
During the Outreach Committee session, we discussed sending letters to our elected officials to share the great benefits a WABO membership offers and I was informed that has been done before and a letter already exists, so we will be exploring the original letter to avoid reinventing the wheel. We also conversed on mixers at the meetings, such as a golf tournament and a designated meeting area for the first-timers (and anyone else) upon arrival the night before.
Thanks to all who participated and as always if you have any ideas on how to increase our membership or improve on what we have please contact me.
Certificate & Registration - Chair Pete Rambow
There were two topics on the agenda for the meeting, Cross Laminated Timber (CTL) and Fire Stop certification.
Jim Tinner wanted to see if C&R wanted to create a special inspection category for the CTL. He reported there are two plants are under construction in Spokane. Two projects are being constructed, one in Portland and one in BC. More to come.
The test for the Fire Stopping and Joints is almost complete, thinking the sub-committee will meet one more time before the summer WABO meeting and will be able to complete and bring to the membership for a vote then.
Government Relations - Chair Dave Spencer, CBO, ACO
The 2017 Legislative Committee had an active session this year. The committee and our Lobbyist, Amy Brackenbury, tracked and worked on many bills as they wound through the legislative process.
WABO worked to introduce two bills this year that were felt to be of importance to the organization.
SSB 5185: Providing immunity from liability for professional or trade associations providing emergency response volunteers. The bill prohibits an act or omission, by a covered volunteer emergency worker while engaged in a covered activity, from imposing any liability for civil damages resulting from the act or omission upon a professional or trade association of covered volunteer emergency workers.
For example the bill protects organizations like WABO and a coalition of organizations, including the Structural Engineers Association of Washington, the American Society of Civil Engineers, and the American Institute of Architects, who train volunteers for disaster response activities.
SSB5304/HB 1430: Concerning the review and adoption of electrical rules. Requires the department of labor and industries to adopt the non-administrative portion of the electrical rules through a process in which the department, the Washington cities electrical committee, and the technical advisory committee have an equal vote in the adoption of the rules.
The purpose of the bill was to give cities with electrical programs a voice in the adoption of the electrical codes within the state.
Bill SSB 5185 was successful and was signed by the Governor on April 17. The success of the bill should be credited to the work of Jon Siu, Ray Cockerham, and our Lobbyist, Amy, along with many others that have worked for some time in previous years on the Emergency Management Committee. WABO should also recognize the efforts of the other individuals from the coalition of organizations like the Structural Engineers Association of Washington and the American Society of Civil Engineers.
Bills SSB 5304 and HB 1430 were not successful but did lead to another bill being introduced by IBEW (International Brotherhood of Electrical Workers). WABO was opposed to that bill (HB 1952). WABO members testified against HB 1952 and sent letters and emails to many legislators expressing our concerns. WABO's bill eventually lead to further conversations and negotiations that ultimately led to $2 million for cities to start electrical programs being put into the Senate budget. The outcome of the funding will not be known until the budget portion of the legislative session concludes. Tom Phillips, John Brickey, Kurt Aldworth, and Amy should be commended for the amount of time and effort spent working on this piece of legislation.
During the session, WABO supported various bills that it believed were in the interest of the organization or had agreed to support based on the legislative priorities voted on by the membership in 2016.
HB 1085: Regulating the minimum dimensions of habitable spaces in single-family residential areas. Authorizes amendments to the building code that: (1) Eliminate any minimum gross floor area requirement for single-family detached dwellings; or (2) Provide a minimum gross floor area requirement below the minimum performance standards and objectives contained in the state building code.
The bill allowed for jurisdictions to voluntarily adopt rules that would allow for the elimination or reduction of minimum room dimensions of the code that would not affect life & safety, structural, or fire code requirements. The bill was brought about by the cost of affordable housing.
HB 1435: Concerning adoption of the International Plumbing Code as an alternative recognized building code. Adopts by reference, as an alternative code, the International Plumbing Code, published by the International Code Council, Inc., with the exception of sections 104.4, 108.7, and 109 and Appendix A of the code.
The bill allowed for jurisdictions to voluntarily adopt the IPC as an approved alternate to the UPC. It would not be whole house replacement of the state code but would be a recognized and approved equal alternative plumbing code. The bill was brought about by the desire to reduce construction costs and efforts behind individuals interested in finding ways to reduce energy consumption in conjunction with green building efforts.
2SHB 1995: Concerning the rehabilitation of historic buildings. Creates the historic building rehabilitation financing pilot program in the department of commerce. Requires the department to: (1) Choose a municipality within which to implement the pilot program; (2) Issue a competitive request for qualifications and quotations; (3) Select a certified nonprofit community development financial institution to implement the pilot program within the selected municipality; and (4) Along with the selected financial institution, consult with the department of archaeology and historic preservation to determine which proposed projects involve historically significant buildings and whether the rehabilitation plans for those buildings are consistent with the United States department of the interior's standards for rehabilitation. Creates the historic building rehabilitation revolving loan fund. Expires June 30, 2019.
The intent of the bill was to help individuals who own older structures obtain funding for retrofitting for seismic conditions.
SHB 1622: Concerning the state building code council. Requires the state building code council to: (1) Adopt a revised process for the review of proposed statewide amendments and proposed or enacted local amendments to the codes enumerated in RCW 19.27.031; and (2) In consultation with the office of the chief information officer, assess the costs and benefits of the potential acquisition and implementation of open public access information technologies to enhance the council's code adoption process. Changes the composition of the state building code council. Requires the department of enterprise services, with the advice and input from the members of the state building code council, to: (1) Employ permanent and temporary staff; (2) Contract for services; and (3) Provide all administrative and information technology services required for the state building code council. Creates the legislative task force on the state building code council's administration and operations. Requires the task force to review and provide recommendations on certain issues with regard to the state building code council, the state building code, and the department of enterprise services. Imposes a fee of five dollars and fifty cents on each residential building permit and ten dollars for each commercial building permit.
The bill would increase the state surcharge fee on building permits to provide needed funding to the SBCC. . Currently HB 1622 is being deemed necessary for the budget by the House so there is some hope that it or funding may be done through the legislative budget process. But the Senate will likely oppose this without the six (6) year code cycle language from SB 5500
During the session WABO also opposed the following bills:
SB 5500: Concerning the state building code council. Allows substantial amendments to the codes to be adopted no more frequently than every six years after the adoption and implementation of the 2016 codes referenced in RCW 19.27.031. Authorizes the state building code council to enact emergency statewide amendments to the state building codes if an amendment is needed: (1) To address a critical life and safety need; (2) To address a specific new or amended statute; (3) For consistency with state or federal regulations; or (4) To correct errors or omissions. Requires the department of enterprise services, with the advice and input from the members of the state building code council, to employ permanent and temporary staff and contract for services for the state building code council. Changes the composition of the state building code council.
The bill would not allow for the adoption of a code cycle less than six (6) years. All code amendments would have to go through the legislature. There was no additional funding for the SBCC.
HB 1890: Concerning the plumbing industry. Changes the composition of the state advisory board of plumbers. Increases monetary penalties for infractions of RCW 18.106.020.
The bill would have allowed for members of the plumbing code body to have a seat on the board that created administered and enforced rules and regulations. WABO felt that a code body should not be involved in that capacity.
SHB 1920: Concerning inspections of licensed marijuana processors' equipment and facilities. Allows the director of fire protection to perform an inspection or approval of a marijuana processor's professional closed loop systems, equipment, extraction operation, or facilities to ensure compliance with applicable fire, safety, or building code requirements.
The bill had language that could not be defined for qualifications of electrical inspector and took away local authority.
ESHB 1952: Concerning enforcement of the electrical laws. Authorizes the officials of incorporated cities and towns, where electrical inspections are required by local ordinance, to enforce the provisions of RCW 19.28.041(1), 19.28.161, 19.28.271(1), and 19.28.420(1) (certain electrician licenses, permits, training certificates, and certificates of competency; violations and penalties for hiring an unauthorized person to do electrical work; and telecommunications contractor licenses) and applicable licensing and certification rules within their respective jurisdictions
This bill would have required cities with electrical programs to do compliance and enforcement activities that are done by L&I without providing a fund source to support such programs.
Finally WABO also tracked the following bills but either remained neutral or expressed concern when necessary:
SHB 1213: Promoting the use of greywater in urban buildings.
SHB 1300: Simplifying and enforcing employee status under employment laws to ensure fairness to employers and employees and address the underground economy.
ESHB 1538: Requiring prime contractors to bond the subcontractors portion of retainage upon request.
HB 1855: Concerning vehicle identification of electrical contractors.
SHB 2044: Concerning the hosting of the homeless by religious organizations.
HB 2130: Concerning the cross-training of masonry trades for building construction.
SB 5379: Constructing all new public buildings with cross-laminated timber.
SB 5450: Concerning the use of cross-laminated timber for building construction.
SB 5576: Addressing compliance with apprenticeship utilization requirements.
I would like to first thank Amy Brackenbury, our WABO contract lobbyist, for her efforts not only for this year but in past years. The membership should know that her efforts and value that she brings to the WABO organization and the Government Relations/Legislative Committee are greatly appreciated. The committee and WABO's legislative efforts and bills are a success in large part due to her efforts and abilities. I would also like to thank the many members of the WABO organization who work on pieces of legislation and bills even though they may not be on the committee. While some have been mentioned there are many other members that have also helped in this year's and past years' successes. Lastly I would like to thank the members of the committee. During the legislative session there are lots of conversations, correspondence, and the reviewing of pieces of legislation that must be examined in order to insure WABO's interests are protected. The collaborative efforts of the committee, members and our lobbyist are what make the legislation WABO influences and supports a success.
Respectfully, David Spencer Government Relations/Legislative Chair