WABO Fall Quarterly Business Meeting


Marcus Whitman Hotel, Walla Walla, Washington
October 11-12, 2018
President's Report - C. Ray Allshouse
Following our annual business meeting in Ocean Shores, WABO had the pleasure to host the ICC Board of Directors' summer board meeting at the Semiahmoo Resort in Blaine. WABO has a history of mutual support of current ICC President Jay Elbettar and his efforts to make ICC governance more transparent to the membership. This meeting provided me an opportunity to personally address the Board directly on behalf of WABO wherein I stressed the importance that the professional reputation of ICC is critical to our ability to gain necessary support to enforce the model codes at the local level. In this regard, it is great that we currently have "one of our own" representing us within the ICC leadership inner circle in David Spencer. As such, he has willingly offered to avail himself as a regular keynote speaker at our regular meetings.
Our quarterly meeting scholarship program has yet again contributed to greater member participation as reflected in a good turnout in Walla Walla. We truly believe that more involvement helps each of you sharpen your individual code application skills while enhancing our collective ability to influence legislative support for our profession and improve the codes we enforce.
I am also very pleased to recognize our new Technical Code Development Committee Chair, Micah Chappell's recent effort to hold not one, but two TCD Committee meetings East of the mountains seeking input on State and national code development. Our resolve will be exercised at the Group A Public Comment Hearings being held at Richmond, VA. Stay tuned for TCD's Voting Guide once these code proposals are released for remote cdpACCESS in November. Of particular interest, will be the proposed Mass Timber proposals that the State Building Code Council is considering for early adoption in the State of Washington.
We have continued to hone our legislative priorities realizing that gaining consensus consistent with the desires of the membership is a challenge on sensitive issues as we approach the upcoming State Legislative Session. We look forward to your participation in the upcoming Winter Committee Meetings in Tumwater on January 31st. You will be given an opportunity to meet personally with your State legislators -- check the WABO website for information on how you can make a difference in this venue.
With the guidance of our facilitating consultant, Kurt Latimore, the WABO 2019-2020 Strategic Planning update is progressing well. Constructive participation by the membership through the professional development portion of our Walla Walla meeting is greatly appreciated. Armed with this input and coordinated by our Second Vice-President, Lee Kranz, the Executive Board will chart the next steps in pursuit of the "Big Opportunity" at our next board meeting.
Finally, the WABO Bylaw change that became effective at our last meeting affords expanded participation on the Executive Board by individual member jurisdictions and thereby allows us to take greater advantage of voluntary participation of talented resources among us. We were careful to craft the language such that the collective balance of organizational power between large and small jurisdictions is not lost within WABO's governance structure.
_________________________________________________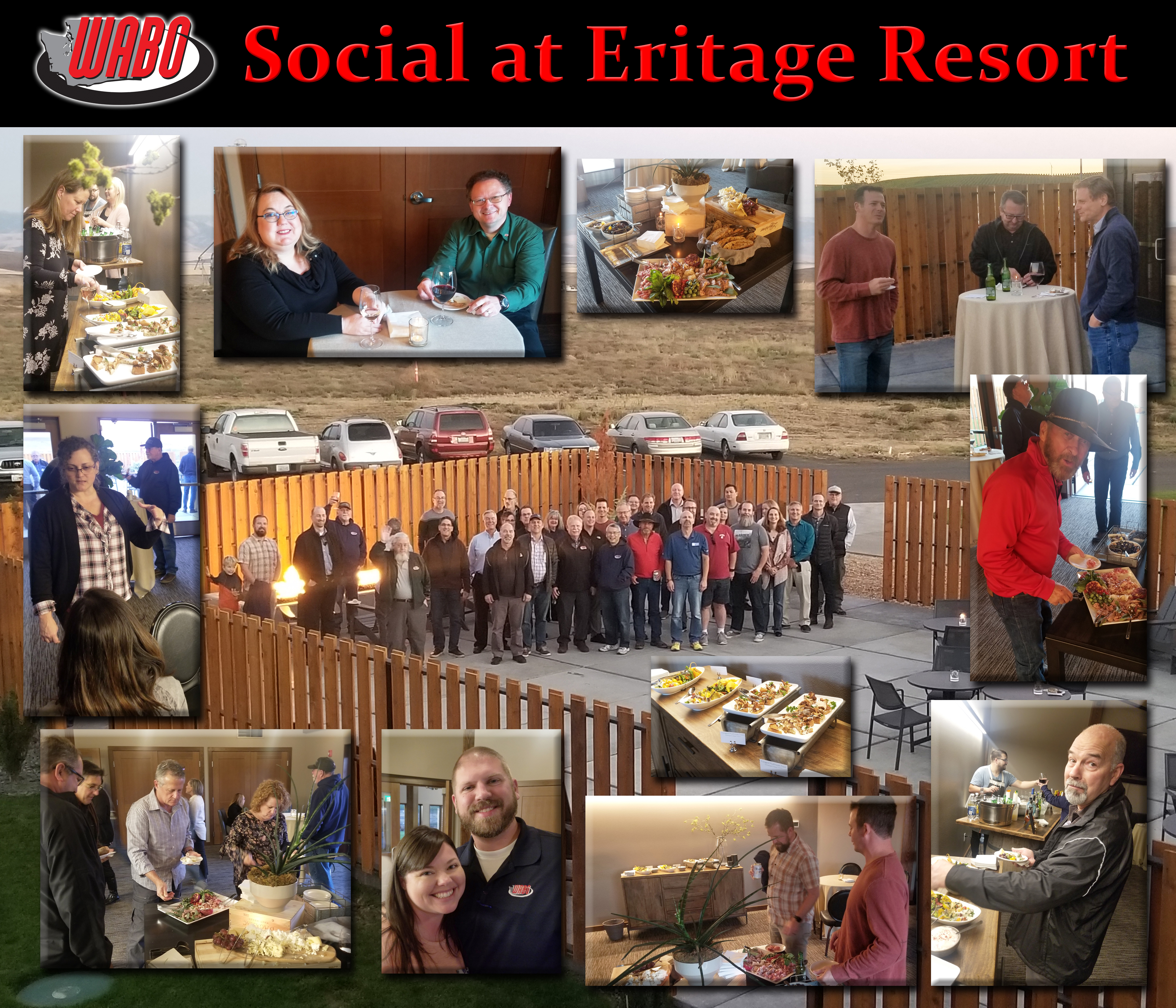 Committee Reports:
Technical Code Development - Chair Micah Chappell


TCD Report for October 11th meeting at the WABO Fall Business Meeting:
Hello from the new Chair of the Technical Code Development Committee Micah Chappell. I appreciate the votes of confidence in being selected as the new Chair. Special thanks to Lee Kranz for managing the committee for so many years and continuing to participate in TCD.
The Technical Code Development Committee conducted meetings on the Eastside of the State being held in Spokane, Pullman and Walla Walla twice, with one of those being conducted at the Fall WABO meeting at the Marcus Whitman. I want to extend a special thanks to those jurisdictions for providing TCD meeting space and participating in the activities of TCD.
We discussed Group A Public Comments (WABO's and other's) to decide the position that WABO would take or testify on at the Public Comment Hearing in Richmond Virginia in October.
TCD also discussed proposals for Group B ICC code change proposals that need to be submitted to ICC by January 7, 2019. I want to encourage all WABO members to look though the Codes for Group B and submit any change proposals to me as soon as possible.
Additionally, the committee discussed the SBCC proposals that were presented to the SBCC committees for Group 1 for State amendments.
TCD will produce a "Voter's Guide" shortly after the ICC Public Comment Hearings in Richmond, VA this fall that will include recommended positions on many proposals, not just those proposed by or testified on by WABO. It is extremely important for WABO members to participate in Group A post hearings voting, that should begin around Nov. 12, 2018, to ensure our code development priorities are met.
TCD scholarships were awarded to eight WABO members to cover part or all of the cost to attend the ICC Public Comment Hearings in Richmond, VA in October. (See Photo)
Several other WABO members attended the ICC Public Comment Hearings to support the Code development process alongside many others from the PNW Region as we work to shape the future of the ICC Codes.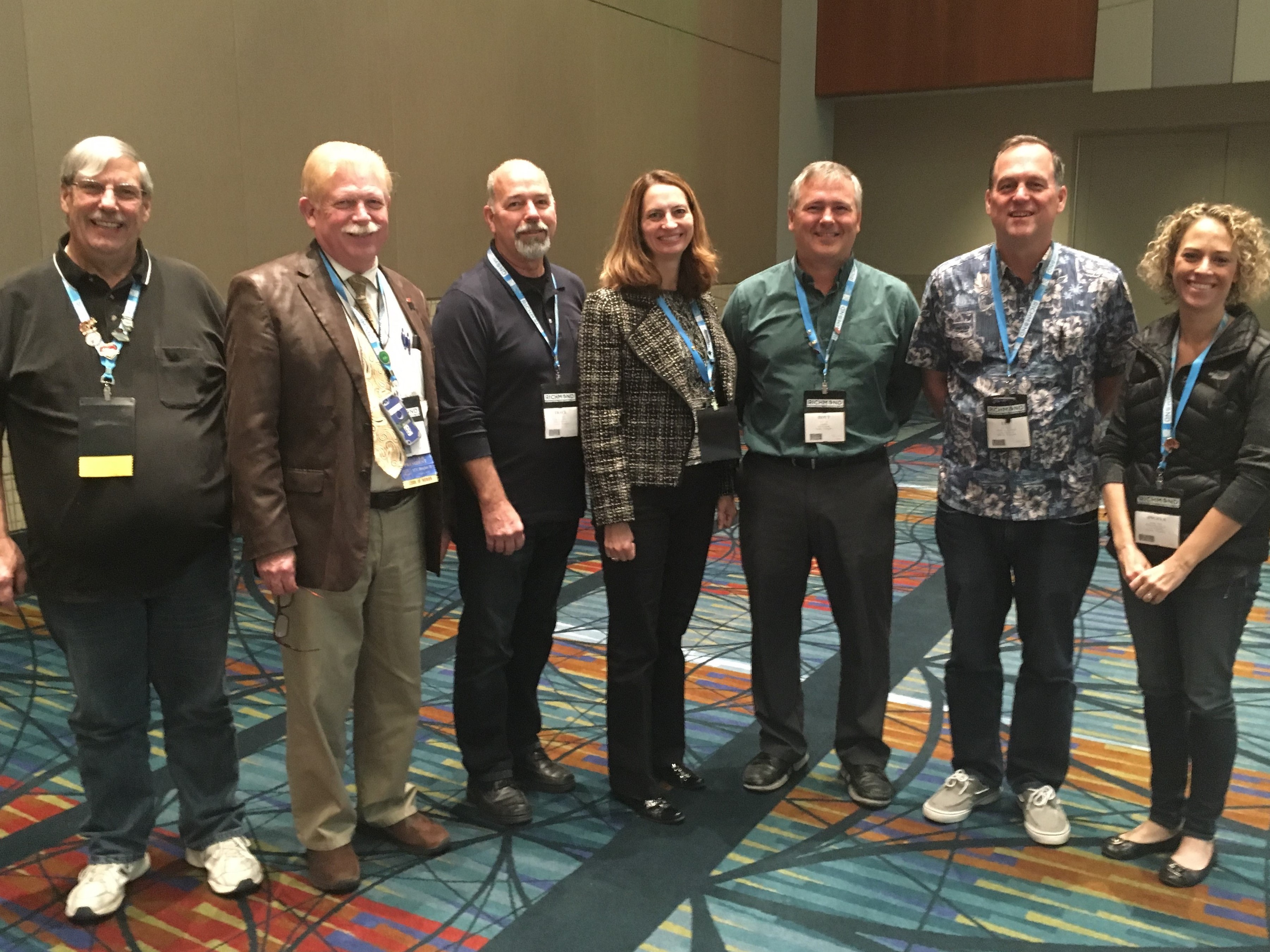 TCD scholarship recipients from left to right: Terry Tackett, Ray Allshouse, Trace Justice, Sue Coffman, Hoyt Jeter,
Lee Kranz, and Angela Haupt. (Steve Wilson not pictured)
Certification & Registration - Chair Brian Smith

The Certification & Registration committee met at the Fall 2018 meeting and held an in depth conversation about Special Inspection Program marketing. Industry request was received from WABO Registered Steel Fabricators to have a unique logo created so they can use in their individual marketing. A mock logo was presented and approved as amended. The logo will be presented to the SIRP Advisory Board for final approval. An Instagram account has been created with the goal of promoting the WABO welders, and fabricators. In addition to our website and LinkedIn, Instagram can be used to promote WABO when a social media policy has been established by the Executive Board.
Several great suggestions on marketing were discussed:
Jurisdictional Education & Outreach
* Why the program helps – prevents liability
* Consider mailings to code officials, city managers and legal departments (value added - limit risk management)
* The individuals in our program are already vetted - saves jurisdiction time
* Send out information at different times and select different topics - risk prevention, quality inspectors, ease of pressure on staff, etc
Consider a C & R booth at the Annual Education Institute
Consider direct marketing to agencies – show what value they receive from the program

Brand awareness as a whole, what is WABO, why we exist?
The Certification & Registration Committee will continue discussion of program marketing. The SIRP Advisory board has established a marketing sub-committee and will monitor the progress.
Government Relations Committee - Chair Tim Woodard, Co-Chair John Brickey & Lobbyist Amy Brackenbury
The Government Relations committee met at the Fall 2018 Business meeting and many topics were discussed.
Amy Brackenbury (WABO's Lobbyist) gave a presentation on the changing political climate in Olympia. Based on the primaries it is predicted that 8-10 Republic seats in the house may be lost to Democrats and 2-4 seats in the Senate. We are unsure how this will ultimately affect WABO's legislative positions.
The revised "Proposed 2019 WABO Legislative Positions" was expanded and ratified by the membership. The expansion included the addition of a WABO position on the current legislation attempting to increase the maximum number of residents in an "Adult Family Home". The proposed legislative positions will be sent on to the WABO President and the rest of the Executive Board for final approval.
John Brickey accompanied by Steve Thornton (Chief Electrical Inspector) facilitated a conversation about HB 1952 that was approved last year. Chief Thornton was instructed by the State Electrical Board to seek input from the cities with electrical programs on their concerns for conducting compliance inspections. The membership in attendance were able to share many concerns for him to report back to the Board.
Education Committee - Chair Rick Prosser
The Education Committee spent their time working on the 2019 Annual Education Institute. Discussions were held on what type of classes are needed at the jurisdictions and several classes were selected based on committee input.
The 2019 Annual Education Institute will host 16 classes that will cover a variety of topic such as:
Building Areas, Mixed Occupancies and Fire Areas
WSEC Commercial Training Provisions
IRC Wood Wall Bracing &Trusses
Plumbing Systems Illustrated
Decks & Balconies
Building Department Fundamentals
Mass Timber
The WABO office will be coordinating the presenters for the courses and will be working on the Institute brochure.
TCD Scholarship Reports on the ICC Public Comment Hearings, October 2018, Richmond, VA:
Sue Coffman Report
I work as the Building Official for City of Tacoma and have recently (over the last year) become more actively involved with WABO. The TCD committee was of great interest to me, as I am responsible for all building code adoption and local amendments for my City. I also started attending the remote TCD meetings that occurred in between the WABO conferences, where we were able to discuss proposed code changes in more detail.
The code hearings in Richmond, VA were my first experience with building code hearings. There was a lot to learn about the process at first and Micah and others from the TCD group were very helpful in providing a flowchart that explained the process. There were many new terms to learn such as AM (as modified), AS (as submitted), ASPC (as modified by public comment), D (Disapproved). So, not only did I get to hear about the code changes themselves, but I was able to learn about the process to consider them.
There were many special interest groups that got up to speak about code amendments. That was the most surprising part is that I learned that code amendments are often brought forward by non-jurisdictional entities. In some respects, this is good because they are aware of the new technologies that are out there that may make a code provision out of date; however, in other respects, it may not be as good because they may be vying for their own product to be the only one that can be approved based on the code change. It is therefore a big responsibility we have as code officials to ferret that out and make a decision based on whether it really is in the best interest of our jurisdictions to adopt these changes.
A great benefit this team will provide for all WABO members is that we will come back with a voting priority list for these code proposals. At the start of the hearing, Micah assigned us codes of interest to take notes on during the hearings, and additionally, asked us to rank all codes low, medium, high in terms of priority for our state's voting members. At the end of the hearing, the group met to discuss priority levels on codes, and Micah will be providing a compilation of agreed upon High priority voting.
The other part that greatly benefited me is to have spent more time with other code officials (not just in WA too). I got to know the other WABO attendees much better on a personal level and feel more comfortable giving them a call to discuss code issues that may come up with my jurisdiction. WABO provides many benefits to jurisdictions and funding assistance with this trip is a great example of this.
This experience has encouraged me to want to have more involvement in the future with code development. I plan to attend the Group B code hearings in 2019 and also hope to have at least one proposal to bring forward from City of Tacoma.
Angela Haupt Report
I recently attended the ICC Public Comment Hearings in Richmond, VA. This was my second experience attending this type of hearing. This experience was actually quite different from my experience at the last PC Hearings in Kansas City. These hearings moved along smoothly and stayed right on schedule. There seemed to be a lot fewer public comments for this current cycle. It allowed the actual length of the hearings to be shortened and the scheduled time frames (8am-7p) were easily adhered to. That doesn't mean that there weren't some code topics that went a bit long.
This hearing cycle included the IBC General and Structural. That means that the mass timber or tall wall proposals were up for approval. These proposals represented a major change to construction types. All of them made it through the committee hearings with As Submitted or As Modified. This was a big win for Seattle, who had put a lot of hours in on the ICC committee. Washington had a strong presence at the hearings again this year. We continue to show that WABO is a strong and active force in the ICC community. As always, attending these hearings provides invaluable experience and knowledge about where our codes come from and the background behind which they were developed. Being able to sometimes explain why a change was or was not made is useful.
After returning from the hearings, I received a draft of the voting guide that the group put together while at the hearings. Micah put together an easy to follow guide that will help the rest of the Washington ICC voting members know which items have been identified as important for membership. Members are always encouraged to vote their conscience and the guide is meant to be just that, a guide. I look forward to my continuing participation with the TCD committee for the upcoming code cycle.
Angela Haupt
City of Kirkland Plans Examiner II
WABO Technical Code Development Committee